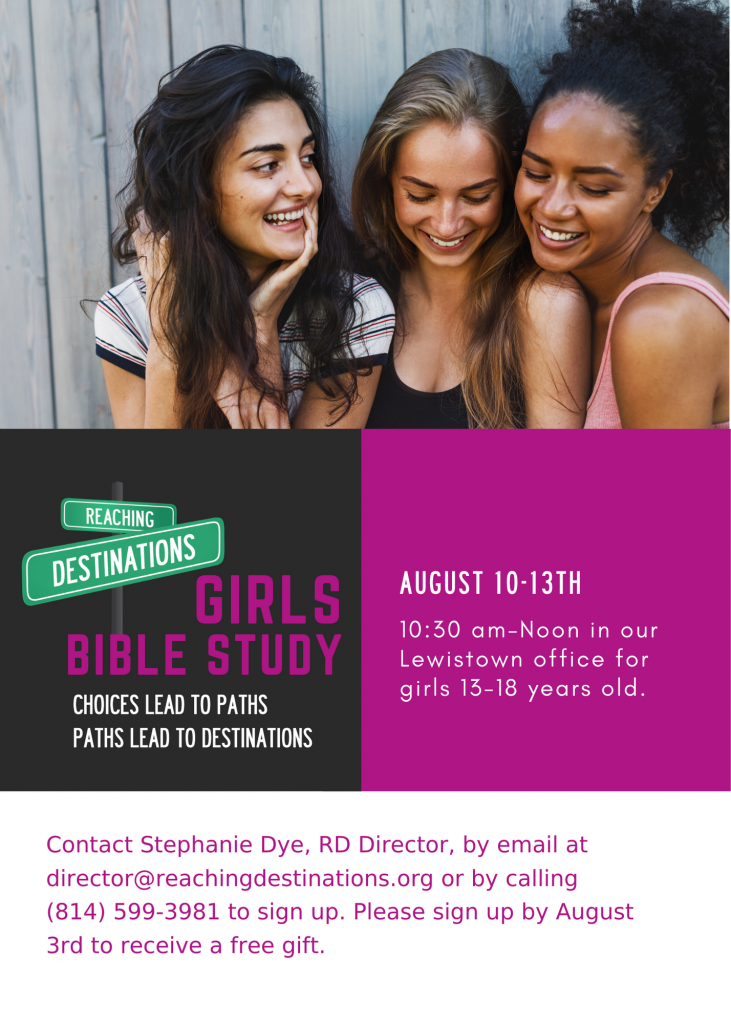 CALVARY BIBLE TEEN GIRLS! Register now. It will be held at the Crossroads Pregnancy Center, located at 1130 W. 4th Street, Suite 1, Lewistown. You can reply directly to Stephanie Dye, Director of Reaching Destinations, director@reachingdestinations.org
CBC CLASS OF 2020 SPOTLIGHT!























Alayna Stroup
Alayna will graduate from Bloomsburg University in December 2020.
She will be graduating with a Bachelor's in Secondary Education & Bachelor's in Mathematics.
I am getting married April 2021. I hope to get a job in the area soon after graduation.
Alayna currently works at Sharp Shopper in Belleville and is also a helper in the Children's Ministries at church.
I would like to thank my parents, grandparents, family, fiance, and fiance's family for supporting me and helping me through all the obstacles.
Her favorite Bible verse is Hebrews 11:3 - By faith we understand that the entire universe was formed at God's command, that what we now see did not come from anything that can be seen.
Congratulations Alayna!!!
Kyle R. Smith
Kyle will be graduating from Penn State University in December 2020.
He will graduate with a Bachelor's Degree in Broadcast Journalism and Minors in Business and History along with a Smeal Business Certificate and the John Curley Center for Sports Journalism Certificate.
His future plans are to find a job and get married.
His activities at Penn State include the PSU Hockey Management Association, and he is a PSU Football Equipment Manager.
He would like to thank his parents, siblings, and fiancée.
His favorite Bible verse is Joshua 1:9 - Have I not commanded you? Be strong and courageous. Do not be afraid; do not be discouraged, for the LORD your God will be with you wherever you go.
Congratulations Kyle!!!
Allison Echard
Allison graduated from Grove City College with a
Bachelor of Arts degree in Secondary English & Communications Education.
She plans to look for a teaching job locally.
She was involved in theater at Grove City College.
Her favorite Bible verse is John 1:5: The light shines in the darkness and the darkness shall not overcome it.
Congratulations  Ally!!!
Nicholas Michael McNeil
Nick is graduating from Belleville Mennonite School.
He participated in Varsity Soccer 4 years.
Congratulations  Nick!!!
Jared Flood
Jared is graduating from Belleville Mennonite School (BMS) and will be attending Penn State (Main Campus).
He was involved in Soccer for 4 years, Basketball for 4 years, Drama for 4 years, National Honors Society for 2 years, Highschool Senate and Class President.
I would like to thank my mentors, coaches and friends who all push me to be my best and most importantly I would like to thank my parents and siblings.
Proverbs 3: 24-26
Congratulations Jared!!!
Sara Ray
Sara is graduating from MCHS AND MC Academy.
Sara received her CDA through the Academy in December and is working full time at SUMMIT Learning Center.
Activities during school included cheer, dance, volunteering in Children's Ministries.
Sara would thank to thank Mrs. Mistretta, Mrs. Baker and her parents.
John 3:16
Congratulations Sara!!!
Sydney Houtz
I am currently graduating from Juniata High School.
I will be attending Liberty University this coming fall.
I am involved in swimming, track and field, cross country, SWEETS club, SADD club, National Honor Society, TEAM, newspaper club, and yearbook club.
My favorite Bible verse is Colossians 3:12-14.
Congratulations Sydney!!!
Jaylinn Pellman
Graduating from Mifflin County High School and The Academy
Member of the Big Valley FFA, holds the officer position of Chaplin.
4-H clubs that Jaylinn has been involved in: Beef, Goat, Poultry, Lamb, Dairy Feeder and Rabbit.
Farm Show Participant   Health and Fitness
Future Endeavor is to study Acupuncture and oriental medicine.
"Always choosing to be thankful"
Jaylinn, How can your mother and Father explain our pride of you.  Not just for us alone, but you are such an example of joyful effort in the things you do. You have taken yourself, and many with you to join in your achievements.  We believe in your ability to mentor both younger and older by your efforts, example and GREAT HEART, in all the joyful things you do!  Always making the best, better. Love Mom and Dad
Congratulations Jaylinn!!!
Jeb Wagner 
Jeb is graduating from Belleville Mennonite School and will be attending Mansfield University to obtain a degree in the medical field.
His favorite Bible passage is Philippians 4:7: And the peace of God, which transcends all understanding, will guard your hearts and your minds in Christ Jesus.
Jeb's favorite memory from BMS is "playing games and talking with my friends in study hall, specifically last year and this year."
The most positive thing learned in recent weeks: "I found a way to keep myself motivated, sticking to my own schedule, and adapting to the new lifestyle of this time."
Congratulations, Jeb!!!
Elizabeth Miller 
I'm graduating from Mifflin County High School
Attending Grove City College for elementary and special education
Involved in pawsitivity club, field hockey for six years, work at OIP Burnham and also babysit, cantare, and district choir.
I want to thank my family and friends for helping me become the person I am today and being there when I was going through the hardest point of my life.
Psalms 46:1-2
Congratulations Lizzy!!!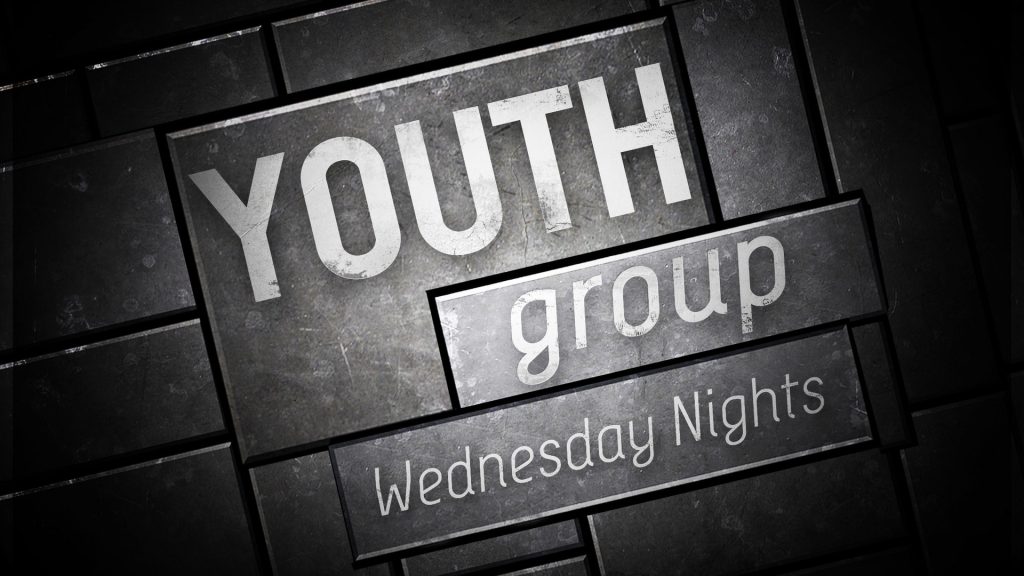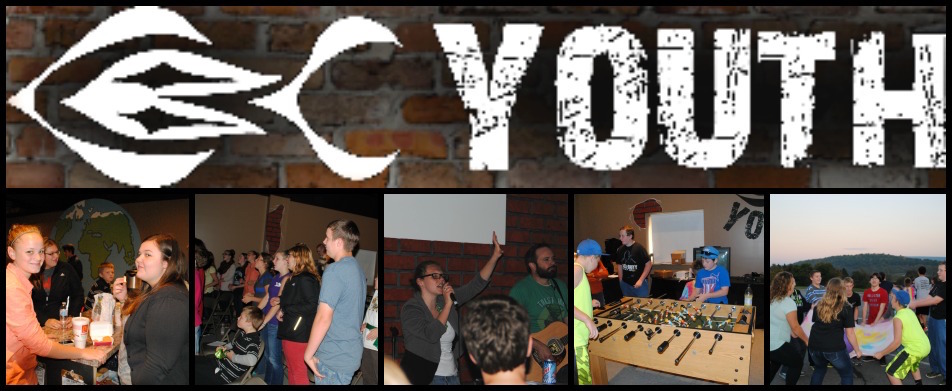 To help the students of CBC grow in their faith and become mature followers of Christ.
CBC Youth is geared for grades 6-12. We realize that there is a large difference in maturity, both emotionally and spiritually, within this age group. Therefore we do split the groups up regularly to allow for more age focused discipleship. For the purpose of our ministry, Senior High (Sr. High, SH) is defined as grades 9-12, and Junior High (Jr. High, JH) is defined as grades 6-8. We realize that this can be confusing as different school systems in the area split these grades differently, but we feel this is the best divisions of grades within our current setup.
PROGRAMS
Sunday School                       9:45 am
Junior High (6th-8th grade) and Senior High (9th-12th grade) divide up to study the Bible in a way that is relevant to their age.
Wednesday Night Live          6:30-8:00 pm
During the school year we offer an amazing night filled with fun, fellowship, worship, scripture and discussion.  We typically kick things off with a time of hanging out from about 6-6:30. We have a café that offers drinks, candy, and hot pockets for a nominal fee.  Students are encouraged to come and spend time with friends and our cool youth leaders. At 6:30 we have a time of games and videos that are just plain fun. Following that is a time of worship that our youth help lead.  The leader brings a message that is relevant to what our students are facing. Finally, we have discussion groups that students divide into lead by our youth leaders. During this time, our students discuss questions that take the message a little deeper and find ways to apply it to their lives. Our discussion groups are where our youth leaders build relationships with your student. Often these groups will meet outside of normal youth activities to develop deeper relationships. Throughout the year, we will be having some theme nights in which the students will be invited to dress up according to the theme. Awards will be given out for the best outfit.